J.W. Construction Holding S.A. starts the presale of apartments

in a next investment in Warsaw's Białołęka
As of June 20, 2015, J.W. Construction Holding S.A. starts the presale of apartments in a next investment, i.e. Zielona Dolina II located at Osiedle Verdiego street in an extremely charming area that is full of greenery in the immediate vicinity of a good infrastructre and arranged in accordance with contemporary trends in architecture. This area is dominated by low-rise buildings with delicate shapes and warm colors.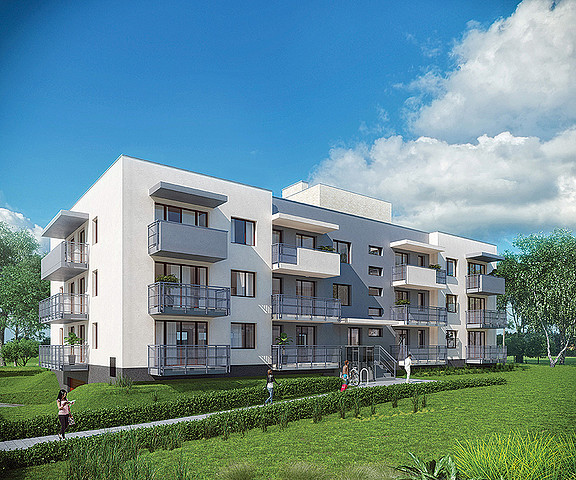 Zielona Dolina II is located in the immediate vicinity of our earlier project Zielona Dolina, which was extremely successful, and the community was awarded QI Order award in the category of highest quality. Białołęka is a really promising location and grows most dynamically compared to other Warsaw's districts so that local dwellers can expect more and more amenities. "As a responsible developer, we support the district in its ongoing effort to guarantee constant growth," said Małgorzata Ostrowska, Head of Sales and Marketing and a Management Board Member at J.W. Construction Holding S.A. "We have started the construction of Verdiego street as promised. Additionally, we plan to provide support to the district's authorities so that the road is extended and connected to Mańkowska street. Because of this, the district will be able to build a terminus at the road's end for public buses. It is extremely good news for current and prospect dwellers so that they can take advantage of the communication routes that are just around the corner. Directly next to Verdiego street, there is a 2ha area that has been earmarked for different public buildings, such as a nursery, sports facilities or cultural centers. All those plans significantly contribute to the attractiveness of the Zielona Dolina II investment," she adds. 
Zielona Dolina II is a complex of two-storey multi-family buildings. Those functional apartments have been elegantly designed. In the community, J.W. Construction Holding S.A. offers business premises, 0-room apartments with the useable space of 22,7 sq. m. and much bigger 2-room apartments with the useable space of almost 60 sq. m. whose prices start from PLN129,000. The entire community will be fenced and guarded. The surrounding area has a rich social infrastructure and a lot of service and business premises. In the immediate vicinity, there are nurseries, schools and language schools, clinics and medical centers, multiple grocery stores as well as a playground. Those who like spending their leisure time actively will appreciate many green areas nearby which can be used for hikes or cycling. The community offers an easy access to popular holiday destinations, such as Zalew Zegrzyński and the Narew and Bug rivers. The government MDM buy-down program fully applies to the apartments in the community. Home owners' association fees are also much lower than those in similar communities nearby. Potential buyers should also pay their attention to small 2-room apartments that are slightly more expensive than 1-room apartments and are a perfect choice for couples who want to start a family and buy an apartment. 
Promotional prices in Zielona Dolina II vary from PLN5,100 per 1 sq. m. to 6,100 per 1 sq. m. Customers will also receive balconies for free and garage places will be sold for only PLN15,000. 0-room apartments' space will vary from 22,7 to 30 sq. m., 1-room apartments will have spaces varying from 31,67 sq. m. to 45 sq. m., and 2-room apartments' will vary from 51 to 59 sq. m. J.W. Construction plans to start construction works in the community in July and end them in Q1 of 2017.